Madison Jacks didn't wait for a good thing to happen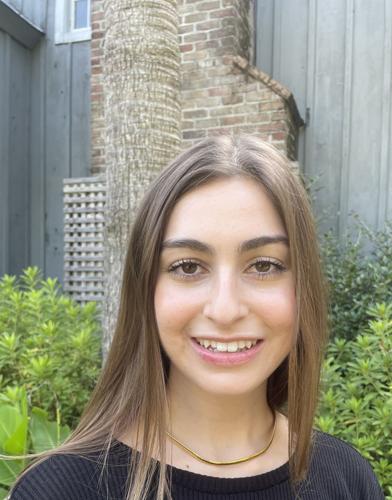 GRACE BUTZMAN | Contributing writer
Madison Jacks is a relative newcomer to Lacombe and recent college graduate who is now on her way to study for a dual master's degree in Europe, and she is proof of the adage, you can accomplish anything you really set your mind to.
Completing a bachelor's in political science from Arizona State University last year, Jacks wanted to further her education by studying abroad. But she didn't just dream about it or talk about it. Instead, Jacks dug deep, researched potential scholarship opportunities and was thrilled to find the Rotary Foundation's Global Grant Scholarship. She says the scholarship was a perfect match because it specifically funds masters programs and offers her area of focus, which is growing local economies.
Not knowing anything about the Rotary organization, Jacks reached out to several points of contact to kick-start her application. And after five months, Jacks heard from Rotary District 6840, covering southeast Louisiana and south Mississippi. She also got in touch with her nearest Rotary club, Northlake Mandeville Rotary, attended their meetings and spoke about her goals.
"When I first realized about the program, I was so struck by how difficult the process is, and Madison jumped through every hoop and made it happen. When I met her, she was mature and poised, calm, confident and accomplished," says Dr. Leanne Truehart, longtime member of Northlake Mandeville Rotary.
Northlake Mandeville Rotary quickly adopted Jacks and became her local sponsoring club for her application. Together, they continued the lengthy process. Next, they needed to get sponsoring clubs on the international level.
Jacks was able to do that with the help of Greg Lier, also with District 6840. Lier vouched for Jacks at the annual Rotary 2022 International Convention in Houston. When Lier spoke about Jacks to the international contact, the district contact was fully on board. Jacks then received supporting clubs in France, London and India.
After much lengthy paperwork was complete, Jacks was approved for the Global Grant Scholarship just under $90,000.
Jacks read her acceptance letter to Northlake Mandeville Rotary with her family by her side. The Jacks family are recent citizens of Lacombe, originally from California, and Truehart said Jacks' mother spoke to Rotarians about the kindness and warmth of St. Tammany and how big a part it played in the scholarship award.
Jacks hopped on a plane this month to begin a dual master's degree, one in international governance in diplomacy at Sciences Po in France and the second in development management at the London School of Economics.
After education, Jacks plans on working as a community and economic development practitioner focusing on projects in Latin America. She hopes to do field work immediately upon graduation and then transition into a policymaking role.
Jacks' interest in international development grew from working with the U.S. Department of State at the U.S. Embassy in Bolivia.
She wrote on her scholarship application, "Through this experience, I observed the political and socioeconomic conditions that can hinder growth. Then, I continued my undergraduate education and was reading and writing about realities that I observed myself. It was at this point that my experience and my education collided and a dedicated interest in international development was realized.